On the 18th floor at the Standard Hotel, past the attractive hostesses, behind a giant door guarded by a doorman, awaits heaven.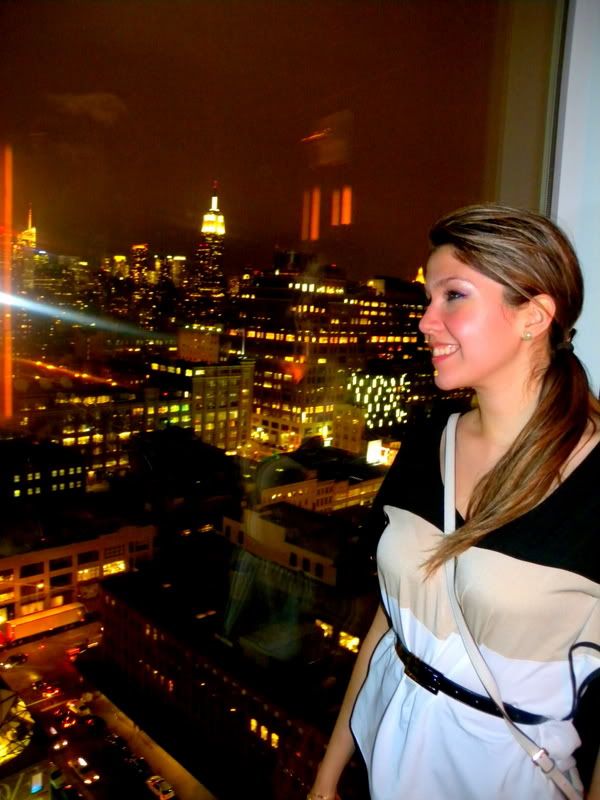 I've been trying to ignore Top of the Standard or (should I say) Boom Boom Room ever since I heard about it. Every mention was followed by an eye-roll from me. I've been deceived by so many overhyped Meat Packing District venues that I didn't see the point in ever going there. The Highline is the only thing that keeps me going back to that tiny ridiculous neighborhood. I'm not sure why I'm so against it. I've never been turned away from any place or have been harassed by anyone. I just don't always feel myself when I go there. It may just be personal.
The Top of the Standard was like no other NYC venue I've been to. Although it is not a roof top bar I will included in that category because of the phenomenal panoramic views. It literally shits on all rooftop places I've been to, including Gansevoort, 60 Thompson, Yotel, Sky Room, Fashion 26, 230 5th, Empire, etc. I could not think of one tasteless item in there. Every single staff member Sarita and I encountered were extremely charming and pretty much amazing. The waitresses wore delightful silk dresses, the bartenders stood sharp in their vests and bowties. There was just nothing pretentious about the place, we received smiles from everyone.
There was a live jazz band performing some of my favorite music around an extravagant  piano. Sara and I sat a few feet from the fire place while sipping on tasty cocktails. Did I mention that the view was breathtaking on every side? Even while urinating, New York City shone right in front of us since the stalls were also equipped with floor to ceiling windows, allowing anyone with good binoculars to spy on us squatting over the toilet if they wanted to.
We ordered two cocktails and one order of fries (the second cheapest food option on the bar menu). We decided against the $150 caviar appetizer or the $30 burger. We were only there to experience the cocktails. After a $63 bill, we decided one cocktail each was all we really needed.
I would absolutely recommend Top of the Standard to anyone. It fits everything I would ever look for in an upscale New York City venue. I think the $20 cocktails are absolutely worth it. While the cocktails are delicious, you are paying for the view, comfort, amazing décor, and fantastic service. I also suggest going around cocktail hour right after work or around 7-9PM to avoid any "douchiness" that may come after 11PM. Sara and I will definitely go back for an update.