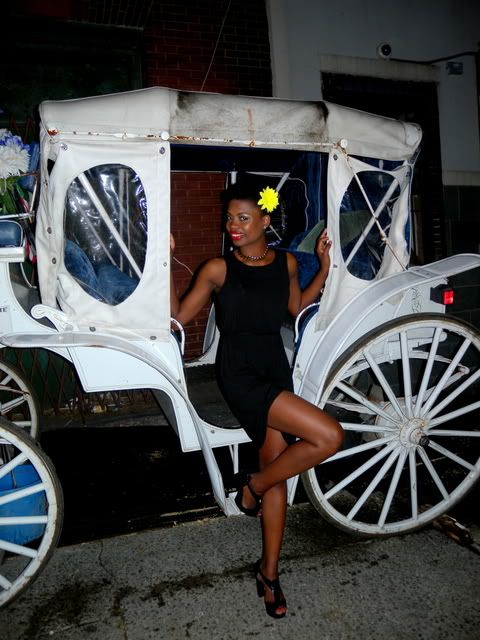 After work, I usually play. I go out for drinks with colleagues, old friends or new friends. Some days, I run straight home to hula, or dance by myself in my apartment. On the health conscious days, I go for a run. Other times, I go browse thrift stores.
No matter what I end up doing, I make sure there is a little bit of play. Playing is fun. It activates my body and spirit, and I find that's what makes and keeps me happy. This night was not such a healthy or weird night. I went to my college friend's birthday celebration in Hell's Kitchen. It was right after work and the fact that the venue was walking distance from the office made all worthwhile.
After a couple of beers, my co-worker and I walked west to try out a rooftop bar we always had our eye on, but it was closed for a private event. Right after speaking with the nice Australian older gentleman, we spotted where they kept all of the horse carriages in New York City. It was a huge warehouse, guarded by two off duty carriages.
As we approached the white carriage, a man, I assumed was the proprietor read my mind. "You want to hop on?" He asked with a smile. What a genius! "Don't mind if I do!" And before I knew it, my hand was already touching the cold metal, and I hopped on. It was fun even without a horse leading me. I could smell the horses from a mile away anyway.
 After my two-minute fun, we kept on walking and made our way to Harlem for some amazing cocktails and sexy nachos. Stay tuned for a review of 67 Orange Street. My new favorite cocktail bar. And yes, it's in Harlem, baby!